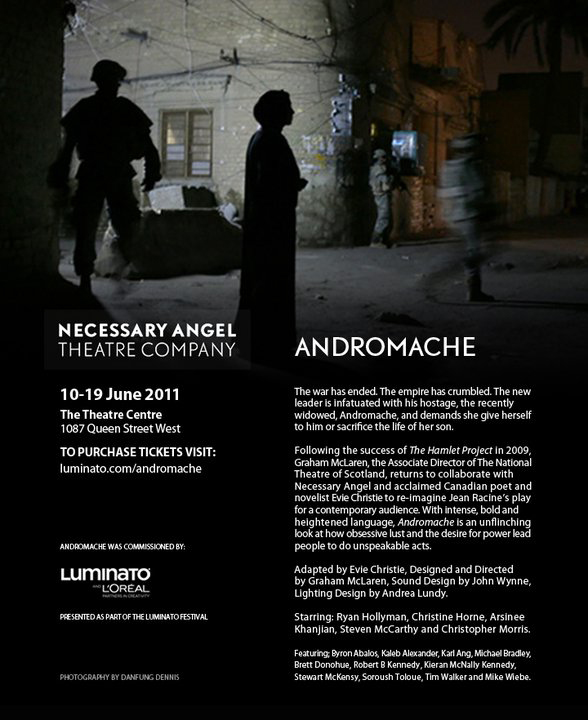 I was approached by the artistic director of Necessary Angel to work on this produciton of Andromache, a contemporary adaptation of the Racine's 17th century play by Scottish director Graham McLaren, known for his radical interpretations of the classics. I warned them that I had done very little work for theatre, but having heard about my work they were keen to find out what I could bring to the production that a theatre sound designer might not.

I designed a bespoke 16.4 channel sound system for the in-the-round configuration of the Theatre Centre in Toronto and responded to the actors' performances and to the set design by creating a kind of composed, site-specific sound installation within which the play took place.

Because Graham wanted more or less continuous sound, I needed to find a way to produce sound that would have a strong presence but not interfere with the actors' voices. At the time I was becoming interested in using only very high and very low frequencies of sound, with nothing in the mid-range; this seemed an ideal starting point, since the human voice occupies the middle of the frequency range. Afterwards, I continued to explore the use of high and low frequencies in a site-specific gallery context through a series of installations in London (see Installation no 1 for high and low frequences, Installation no 2 and Installation no 3). This series will continue to develop.


I was nominated for a Dora Mavor Moore Award for Outstanding Sound Design and Composition. Christine Horne (see below) was nominated for Outstanding Performance by a Female in a Principal Role.






"The soundscape was magnificent, so rich and varied, both subtle and wild. But even when it was at full volume, it didn't make you wince or cover your ears; it was so beautifully modulated that it drew you into it."

Marian Botsford Fraser

Arsinée Khanjian and Ryan Hollyman
Steven McCarthy and Christine Horne